This is a new regular series of posts where I highlight a cool online service that you may or may not have heard of. Whether I ever make it to 101 is debatable I feel… I've also set up a Twitter feed where links to these posts will be automatically pumped.
This is the first post, and it's about paper.li.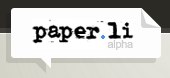 Paper.li is a service that integrates with Twitter, and creates a dynamically produced page, that looks a bit like a newspaper, from the links that are added to Twitter.
You can create a paper from your own (or indeed, someone else's) followers, or a hashtag, or one of your lists of Twitter users. Here's what mine looked like when I created it just now: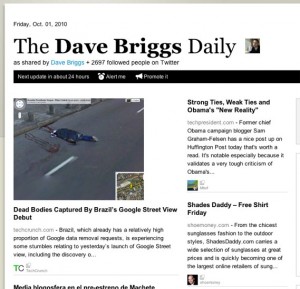 Here's an explanation from the website about how it works:
extract all tweets that include URLs
extract the content found on these URLs:

text, e.g. blog post, newspaper article
photo, e.g. Flickr, yfrog, Twitpic, …
video, e.g. YouTube, Vimeo, Dailymotion, …

analyze the extracted text for topic, e.g. Politics, Technology, …
surface the day's most relevant articles (using paper.li magic)
construct a newspaper frontpage using the filtered articles, photos and videos
So you can quickly produce an automatically curated page of useful content that people you are interested in have found – on the topics you are interested in. It really is just a case of signing up, typing your terms in and clicking go.
The downside is that you have little control over what it produces. You can see a local council, for example, producing a paper containing content concerning the local area – but it may have to come with caveats!
Possibly related posts: