DavePress is a blog about the impact that social technology has on organisations, with a particular slant on the public sector.
It's published under a creative commons licence, meaning you can republish, remix and reuse the content here in anyway you like – as long as you're not directly making money out of it. If you do have a scheme for making my stuff pay, that's probably fine too – but let's have a chat first.
Contributors
Dave Briggs
DavePress is mostly written by me, Dave.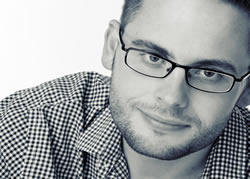 I run a company called Kind of Digital, which helps the government use the internet to make itself a bit more interesting. It's challenging work.
I also work as Community Evangelist for Learning Pool – the public sector eLearning exchange. I make noise about the company and the great work we do, as well as finding interesting projects to get involved in.
I've been blogging about and promoting the use of social technology in government for seven years or so. The current home of my writing on this is here at DavePress, whilst more personal thoughts are being recorded occasionally at da.vebrig.gs.
I kicked off the LocalGovCamp movement, and organised the most recent UKGovCamp – these are unconferences for government types. I've worked at small district councils, big Whitehall departments, and even 10 Downing Street. I strategise, train, speak, consult, interview, convene and curate.
I've got various profiles scattered about the web. Always happy to connect wherever you find me.
It goes without saying, but I'll say it anyway, that the content of my posts is mine and does not necessarily represent the views of anyone that I work for, have worked for, or, indeed, will work for.
Guests
DavePress is lucky enough to have had a number of guests posting on the blog. You can be one too, if you like – just get in touch if you are interested in joining this elite cadre:
Don't forget to subscribe to DavePress using RSS or click here to subscribe via email. You might also be interested in my Twitter stream.