I have just got my new Vista PC up and running. When I announced that I was going to buy such a thing in my Facebook status, it caused something of a reaction: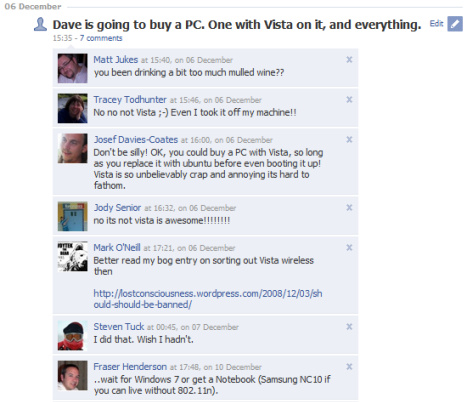 Since getting it set up, I have had enormous fun finding and installing all the little bits of software that I want to make things work as close as I can get to how I like them. This included:
Using Chrome has been interesting – it is the first time I have had a proper play with it. It certainly seems quicker than Firefox, which has never been lightening quick. However, after this brief honeymoon period I'll probably go back to FF if only because of those extensions which make life so much easier.
I'm pleased to see that Windows Live Writer now comes preinstalled with Vista – guess this is part of Service Pack 1? Anyway, WLW is the best bit of desktop blogging software there is. MarsEdit had become my tool of choice on Mac, but it doesn't have the features or power of WLW. Another software improvement on what is available for Mac is FeedDemon, which is just an awesome RSS aggregator.
Of course, this being Vista, it hasn't all been fun and games. I ran into several problems when trying to install stuff, with errors popping up about DLLs and that sort of nonsense. A quick Google sorted them out, but of course it isn't necessary on a Mac…
My reasons for buying a PC is a slightly stupid one: I just felt slightly exposed not having one! With most of the work I do being with government, which is of course hugely dominated by Windows, I always had the fear that not being on the same platform might trip me up at some point. It hasn't really so far, but I can't help but think that having a native copy of Internet Explorer to test stuff on has to be a good thing.
The other advantage of buying a PC is that it was pretty cheap: £350 for a desktop box with 6gb RAM and a 500gb hard disk, and a 2.2 ghz processor (whatever that means). Even running Vista Home Premium, it seems to work pretty swiftly.
This PC isn't going to be my machine of choice – that remains my Mac – but it's nice to have around, not least just to be able to try new, different stuff.
Possibly related posts: