I haven't done one of these for a while, sorry! Here's the third in my series of 101 cool social media tools, it's Doodle!

Doodle is a neat little tool for organising when to meet groups of people. Someone starts up a Doodle poll, and lists the dates and times that are possible. They then invite everyone who needs to attend to vote by clicking on the slots they can make.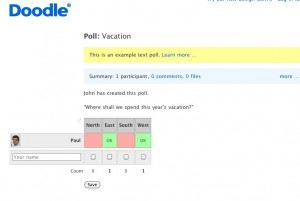 Doodle then highlights the date and time that the majority of people can make, and that's your decision made.
So much easier than pinging emails back and forth with suggestions!
Don't forget, you can follow these tips in the future on Twitter…
Possibly related posts: